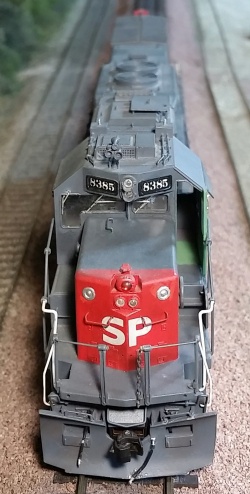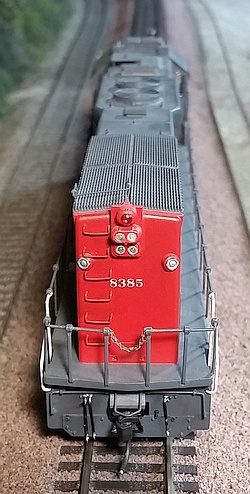 SP SD40T-2 8385

I built this locomotive around 1990 from the then-new Athearn model.
I installed numerous detail parts, as well as custom painting and weathering.
These days, Athearn and other manufacturers offer accurate ready-to-run SD40T-2 models.

Below:
I opened up the fan housings and installed fans made from Athearn semi-truck wheel hubs and styrene-strip blades.
The grills are an etched brass product from Detail Associates. The exhaust stack was also opened up using a Precision Scale part.
I scratch-built the Locotrol remote-control antennae, platforms, and conduits, as well as the raised radio ground plane.

Left:
Numerous SP-specific details were added to
the front. The cab windshield was modified into the
distinctive "L" shape used by SP for many years.
A set of SP lights was grafted into the nose. A large
Details West snow plow was added to the pilot.

Right:
The rear received a full set of SP lights.
The pilot plate was fabricated from sheet
styrene and NBW castings. Campbell scale
chain was installed on the handrail openings.

I opened up the "tunnel motor" intake grills using Precision Scale etched metal parts. The open cab door is also a Precision Scale part.