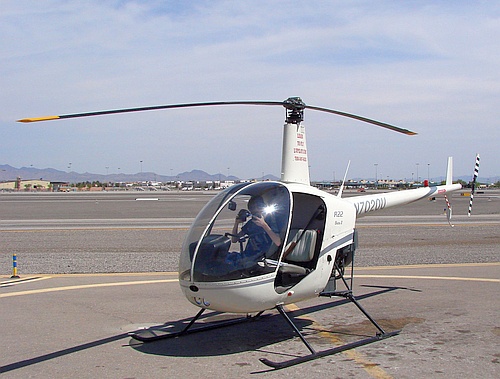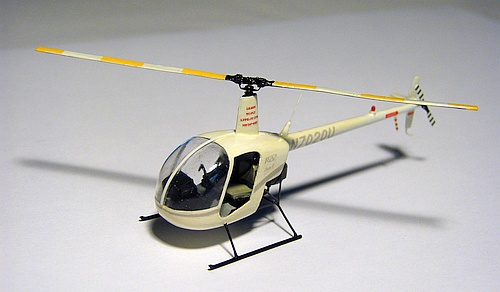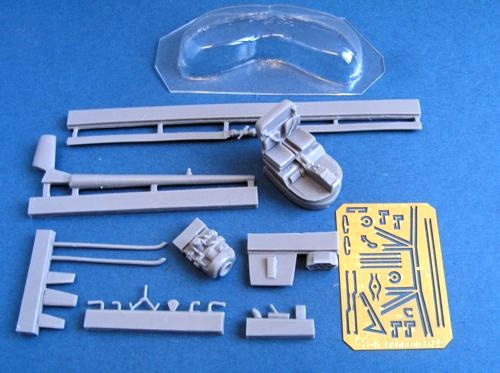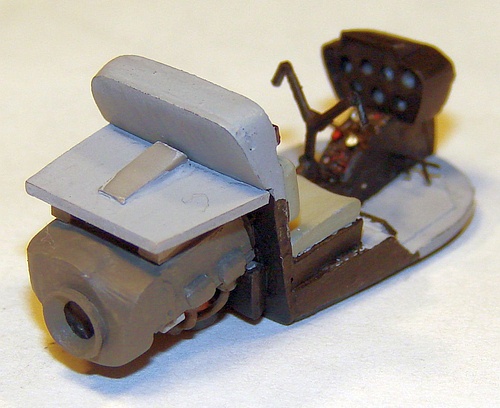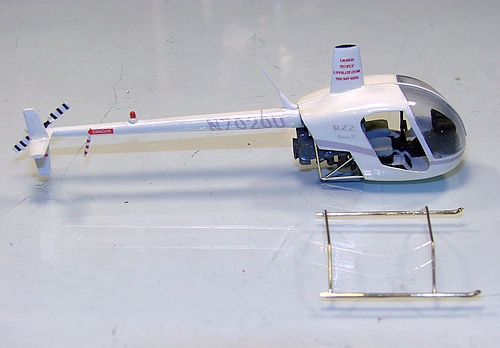 Robinson R22 Helicopter, 1:72 scale
I built this model to commemorate my son Eric's
first helicopter flight lesson at the North Las Vegas
airport, when he briefly considered training to
become a professional helicopter pilot.

This model of a Robinson R22 Beta II was
challenging, as the kit was a combination of cast
resin and etched brass parts. I made the decals
myself using MS Visio and printing on decal paper.

The presentation case is designed for displaying
a baseball or softball, but it is the perfect size for
this model. The helicopter is attached to the base
with small loops of wire around the landing skids. The
clear cover and base are held together using thin
magnetic strips, so the cover does not slide around.

Below:
Eric waits in the pilot seat as the instructor finishes the walk-around inspections before take-off. Eric briefly hovered the helicopter
for a few minutes, after learning the basics from the instructor. It was a rather windy day, which made the task rather challenging.

Below:
The finished model, in 1:72 scale. Both rotors actually turn - I used bits of small wire and some parts from an old watch.

Below:
The kit is by Pavla, in the Czech Republic. This is the entire set of parts - I added a handful of details to enhance the basic kit.

Below:
The cockpit interior and engine assembly.

Below:
the cockpit, main boom, and tail rotor assembled together.
I painted and decaled the model as I went along since the parts
were so complex and delicate once assembled.

Above:
I scratch-built the engine frame and landing gear by shaping and soldering together brass wire of various gauges.
This made the model more robust while resulting in a delicate appearance. The angled antenna is also scratch-built from
a hand-shaped chunk of styrene and a length of brass wire. The removed doors help show off the cockpit interior detail.

Below:
the cockpit, canopy, and main boom with tail rotor ready
for assembly. I cut out the doors to match how the prototype
was configured - apparently R22 doors are easily removed.