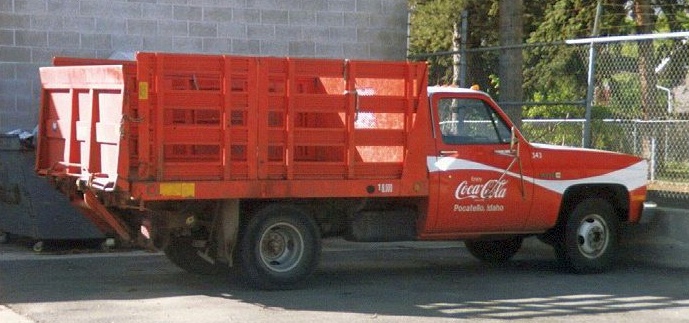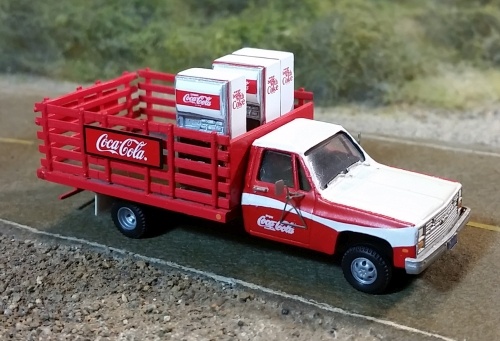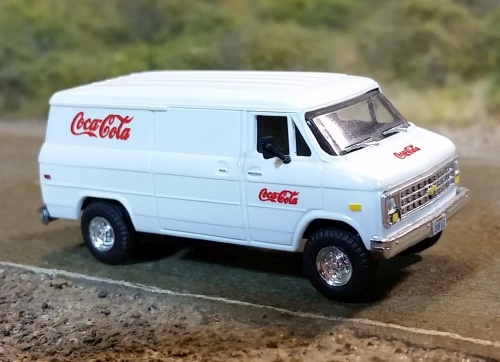 Coca-Cola Vehicles
My grandfather owned and operated the Coca-Cola bottling plant in Pocatello, Idaho until 1970-ish.
I have fond childhood memories of visiting my grandparents and going to the plant with my brother
and Grandpa for a few hours. He'd set us up on these rickety high stools next to the bottling line and
we'd watch the bottles run by while sipping on a freshly bottled Coke. But Grandpa always put us far
away from the capping machine - every now and then it would go haywire and start smashing the
just-filled bottles. Glass and Coke flying everywhere and my Grandpa running to hit the emergency
off switch! Great times now long gone. And ever since, I've had a fondness for anything Coca-Cola
related. So it was natural to build a few Coca-Cola vehicle models.

Below:
Grandpa drove an old Chevy truck similar to this one for the few blocks between home and the bottling plant.
I remember it being very noisy, smelling like machine oil, rough riding, and always dirty - so that's how I modeled it
using powdered chalks. All I did to the out-of-box Busch model is add the Coca-Cola logo on the doors and tailgate.

Above:
This is Grandpa's bottling plant located at North Main and West Custer streets in Pocatello,
Idaho, sometime in the 1980's or 1990's after it was turned into a distribution warehouse. Aluminum
cans had killed the small-town bottling concept. But the red and white Chevy van parked outside was
the inspiration for my model,
below
. Starting from a Trident product, I repainted it and added decals.

Above:
This stakebed truck parked behind the Pocatello plant's warehouse was the inspiration for my model,
below
.
The cab is Trident, and the stakebed was shortened from an Athearn model (which also donated the vending machines).
The dually rear wheels are from a Busch vehicle. The door-mounted mirrors are a Plano Models etched metal product.

Below:
This more modern-schemed van is just a white Trident product with Coca-Cola decals and license plates added.

Below:
This roll-panel truck started as a plain red Boley product. I added decals and license plates.