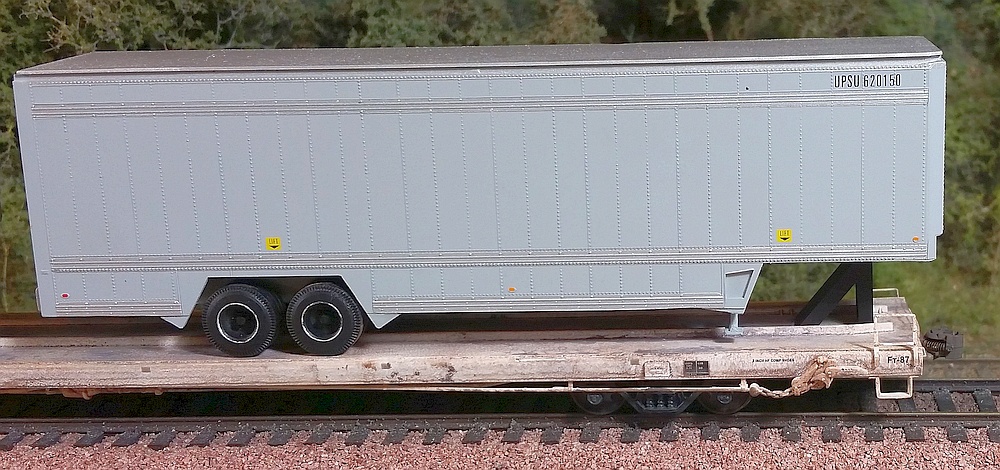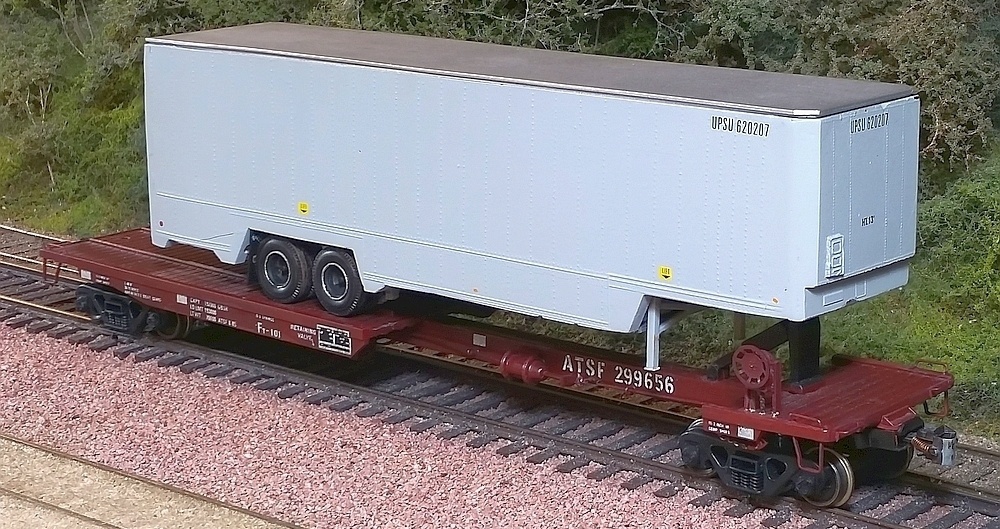 Santa Fe Piggyback Flat Cars
The Santa Fe Railway depended on intermodal traffic and pioneered many aspects of the industry.
Here are a few of my Santa Fe piggyback flat car models - scroll through the page to check them out.

In the 1980's when intermodal traffic was exploding, Santa Fe converted hundreds of surplus bulkhead flat cars into TOFC platforms.
Around that same timeframe, with limited prototype photo references and few choices of models to start from (not to mention my
still-developing modeling skills), I kitbashed this car from a MDC-Roundhouse 60' flat car. I glued thin styrene sheet onto the deck,
added some styrene angle as rub rails, and stuck on a brake stand. I also replaced the grabs and stirrup steps.

Recently I've done more detailed research and discovered that, admittedly, this is not a very accurate representation of such cars.
But it will have to do for now until I have the bandwidth to build a replacement.

I installed a Ring Engineering flashing End-of-Train (EOT) device and place this car at the end of cabooseless intermodal trains.

Note: I bought this "Montana" BN trailer because that's where I was born - Montana.

293399 60' TOFC

295154 89' COFC

296644 89' TOFC

299656 50' TOFC

Below:
The styrene cement sort of melted the sheet styrene into the deck lines. So when I weathered the deck with chalks,
I got this unusual weathering pattern which I decided was somewhat interesting, though perhaps not exactly prototypical.

Below:
Additional photos of the car carrying a Santa Fe goose-neck trailer with tank container (more info here).

This is a stock Atlas 89' car, loaded with 20' containers like a prototype car I once saw in Arizona and just really liked.
More info about the kit-bashed bromine tank container here.

This car is lightly weathered using chalks, with some grungy spots on the deck. To get a concentrated rusty spot, I'll dab some
dull-cote paint in the area and then stipple powdered chalks into the wet paint. An overspray of dull-cote fixes down the chalk.

This is a stock Atlas 89' car, loaded with 40' UPS drop-frame trailers (more info on them here).

This car is a bit more heavily weathered, again using powdered chalks. I used the stipple-into-wet-dull-cote method
to get several rusty areas. I lightly oversprayed with diluted white, simulating the rust bleeding through the white paint.

In the 1980's when intermodal traffic was exploding, Santa Fe converted hundreds of surplus boxcars into TOFC platforms.
I kitbashed this model from a Front Range brand converted TOFC kit by removing the open framing between the two deck sections
and modifying the sidesill profiles. I added the brake rigging and upgraded the grabs and stirrup steps. To add some weight, I
glued lead shot beads into the hidden crevices of the underframe. The car is still rather light, so I run it with a weighted UPS trailer.

290845 85' TOFC

This is a Walthers model that I modified by reversing the hitch placement relative to the brake stand. Prototype photos seem to
show both arrangements existed, so I decided to make my car unique by relocating the hitches - see "Construction" after the photos.
I weathered the car heavily to represent an older car nearing the end of its service life in the mid 1980's.

Below:
This prototype photo taken on Cajon Pass in the mid 1980's is the inspiration for my model. Note the weathering
is so heavy, the car number cannot be discerned. In this case the brake stand is near the first (left) hitch. But I've seen
other Ft-18 photos where the brake stand appears to be at the opposite end from the first hitch, as I've modeled.

Below:
I used powdered weathering chalks and airbrushing to grunge up my car.

Below:
I made tire rub spots by picking up some of the weathering chalk with
a thinner-soaked brush. I also used thinned black paint to add a few small
oil spots. This can be easily overdone, so just a few here and there is plenty.

Construction:
To move the hitches, I removed the long strips along the car center, pulled off the
hitches, and filled the mounting holes with putty (gray). I reworked the central cross braces using chunks
of thick styrene (white). I brush painted on some orange to cover the rework, which was later blended into
the stock paint with heavy weathering that naturally accumulates in the recesses of the central channel.