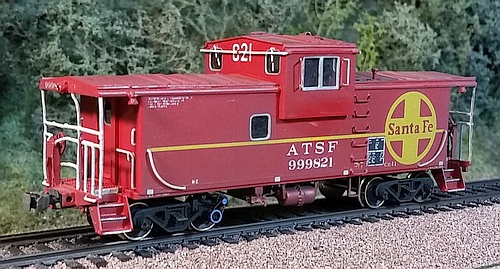 Santa Fe Ce-11 Waycar 999821
This is a brass caboose I painted, decaled, and weathered many years ago.
It was inspired from visits to Tehachapi Loop and Cajon Pass as a young adult.

I made this model so long ago I don't recall much about the process. The undecorated brass caboose came fully assembled, and
I believe I just airbrushed the red. The aluminum window frames, black trucks, and white railings were brush painted. The red lights
on the ends are MV Lenses brand, and do not light up (though I've considered adding power pick-up trucks, a DCC decoder, and
LEDs). I don't recall whose decals, but most likely Microscale. Weathering is powdered chalks with Dullcote oversprayed.