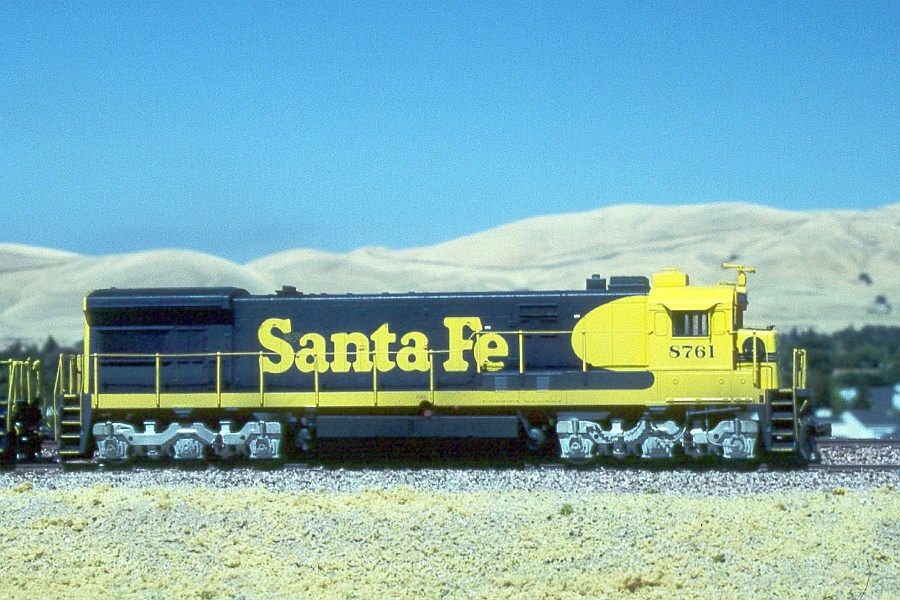 ATSF U36C 8761

To build this locomotive, I modified and upgraded the Atlas U33C model.
The SFRH&MS published my article describing its construction in the 4th Quarter 1997 Warbonnet magazine.
This model was featured on the cover of the August 2003 Rail Model Journal.

I started with an undecorated Atlas U33C and added numerous parts from Details West, Detail Associates, and A-Line.

Below, upper left:
Equipment bays from an Athearn U33C shell (black) were stacked behind the cab on the left side.

Below, upper right:
Scratch-built radio platforms on the top.

Below, middle left:
Air tanks received piping and conduits.

Below, middle right:
Radiators were opened, Cannon GP35 radiators doubled up and placed inside, and fine-mesh screen applied on top.

Below, bottom left:
An anti-climber and rounded upper headlight housing were fabricated from styrene.

Below, bottom right:
Rear number boards were blanked.

Above:
I built a small diorama for model photography, and set it up outside with real California rolling hills in the distance.