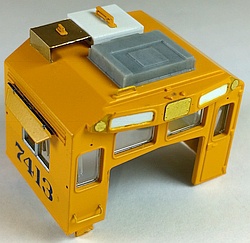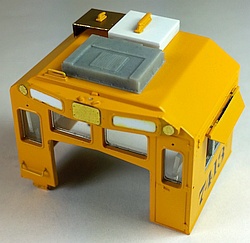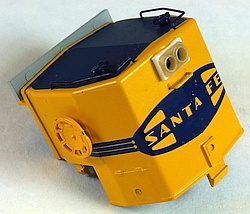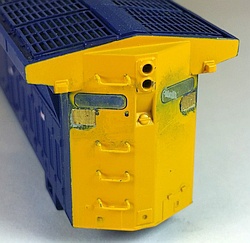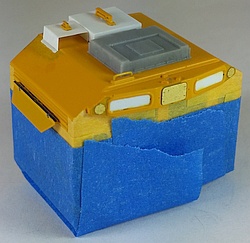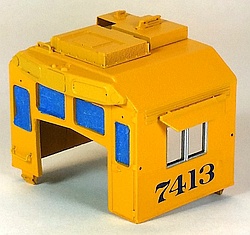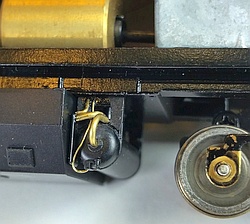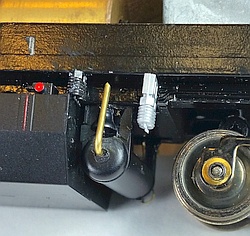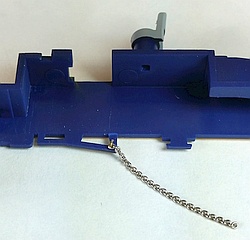 ATSF DASH8-40B 7413

I detailed, touched up the paint and decals, weathered, and
installed new DCC lights in this Atlas pre-decorated model.

Right:
The prototype - Santa Fe
7429 is the same class as my
model, which I chose to weather
a bit more lightly than this example.

Below:
On my model I used artist's oil paints to create the rusty grunge leaking down from the battery boxes,
and the gray streaks on the fuel and air tanks. The light road dust is powdered chalks fixed with dull-cote spray.

Below:
I brushed diluted black into the various grills to give them more "depth".

Below:
I airbrushed diluted black over the exhaust stack, and carried it forward and back along the roofline, fading it out
along the way. A bit of rust-colored paint was dabbed where the rotary beacon once stood at the cab roof front edge.

Below:
The stock Atlas model had no cab-top detailing. I added an A/C unit (gray), a scratch-built antenna
platform box (white styrene), and an EOT antenna (brass) - I later replaced the brass platform with styrene.
I also blanked out the headlight and class lights using BLMA #4551 brass cover set.

Right:
On the nose I added a
styrene headlight base and
a Detail Associates headlight.

I replaced the oddly-shaped
stock exhaust stack with an
Atlas part, the one that comes
on their DASH8-40BW model.

On the rear I sanded smooth the
number boards and class lights,
and made custom covers from
brass sheet material. The rear
also was repainted yellow.

Right:
I masked the cab top and
number board housing for painting
(Tru-Color TCP-175 Sulfur).

The painted cab-top is a good
match to the stock Atlas yellow.
The windows are taped to
prevent overspray on the "glass".
Later I brush-painted the number
boards black and added white
decal numbers.

I also masked and airbrushed the
walkway step areas yellow.

Below:
I upgraded the air tank piping by carving off the cast plastic detail and drilling holes to receive
hand-shaped brass wire pieces of various gauges. I also added another air filter set (black).

Left front

Left rear

Right front

Right rear

Left:
I installed a small brass-wire hook on the inside of the "chain guard", and
added a fine-scale silver chain which connects to the front right truck sideframe.
This is so I can detach the chain in case the shell needs to be removed from the drive.


Below:
The sideframes are stock, though I added Details West spare coupler knuckles.