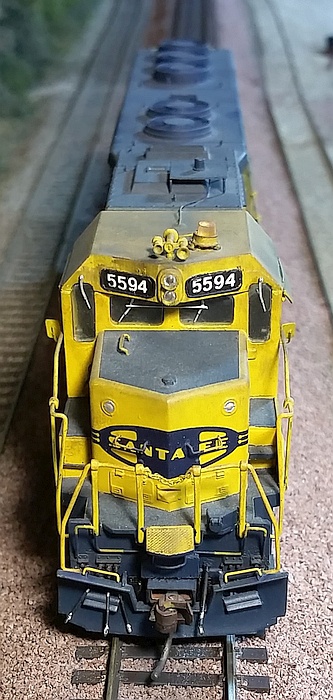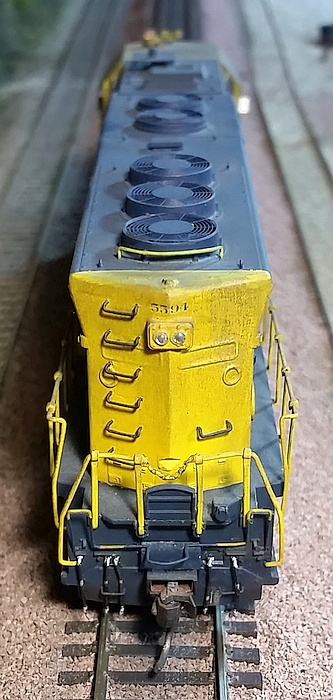 ATSF SD45 5594

This model's heritage connects back to my very first Athearn locomotive, purchased in the early 1970's at a small hobby shop in
Pocatello, Idaho. The toy trains my brother and I had received for Christmas a few years before didn't look anything like the real
trains we saw on summer vacation train-chasing excursions with our Grandpa, who ran the Pocatello Coca-Cola bottling plant.
So when we stumbled across Athearn products in that small shop, it was a revelation - "Wow! This is what trains *really* look like!"
My brother bought a GP35, and I got an SD45, both in Santa Fe's blue-with-yellow-pinstripes scheme of the 1960's.

As the years went by and my modeling goals became more discerning, I upgraded my Athearn SD45 several times. I probably
replaced every part of the original model - the drive and trucks with higher quality Athearn parts as they updated their products to
stay competitive; additional detailing to match photos captured on trips to Tehachapi and Cajon; and a new shell for repainting to
the yellow-bonnet scheme when I was in college. Which prompts a funny story: While living in a second-floor apartment, I set this
SD45 shell on the balcony railing in preparation for the repaint. I turned away briefly to fiddle with my air compressor, and when I
turned back ... the shell was gone. "What the h*ll - where'd it go?" I recall thinking. After a moment of bafflement, it dawned
on me. I hesitantly looked over the railing to discover the shell lying on the sidewalk 10 feet below. Surprisingly, the damage
was very minimal and I completed the re-paint project soon thereafter.

I consider this a "legacy loco" - due to the "wide-body" hoods and various other defects of that old Athearn shell, this model is not
up to snuff for operating on prototype-based Free-mo layouts. So it lives in my home display case storing memories of childhood
vacations to Pocatello, Idaho, visiting Grandpa at his bottling plant, and riding around in his green Ford pickup taking Polaroid
snapshots of trains. Eventually I'll build a much more accurate 5300-series SD45u from either the Kato or Proto2000 model.

Below:
I opened up the fan housings and installed fans made from Athearn semi-truck wheel hubs and styrene-strip blades.
The grills are an etched brass product from Detail Associates. The antenna ground plane is sheet styrene with brass wire conduit.

Left:
The "wide-body" is quite
obvious in this front view, with that
big nose and narrow walkways.

Right:
The rear received the usual upgrades -
drop grabs, drop steps, hand-made coupler
lift bar, MU receptacle and air hoses.
Campbell scale chain was installed on the
handrail openings.

I cut a housing for the brake wheel into the end of the right side, as most Santa Fe SD45's had. The
left-side nose brake was filled in accordingly. The radiator grills were replaced with Detail Associates parts.