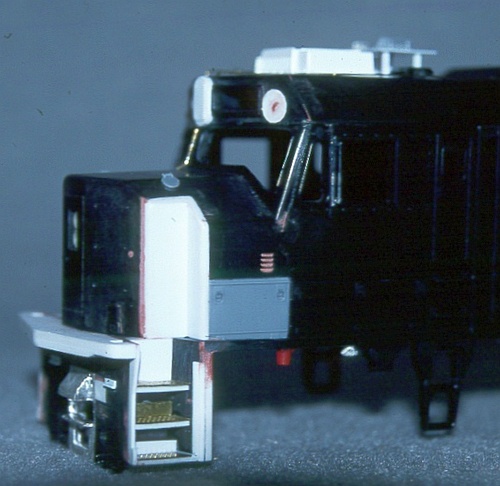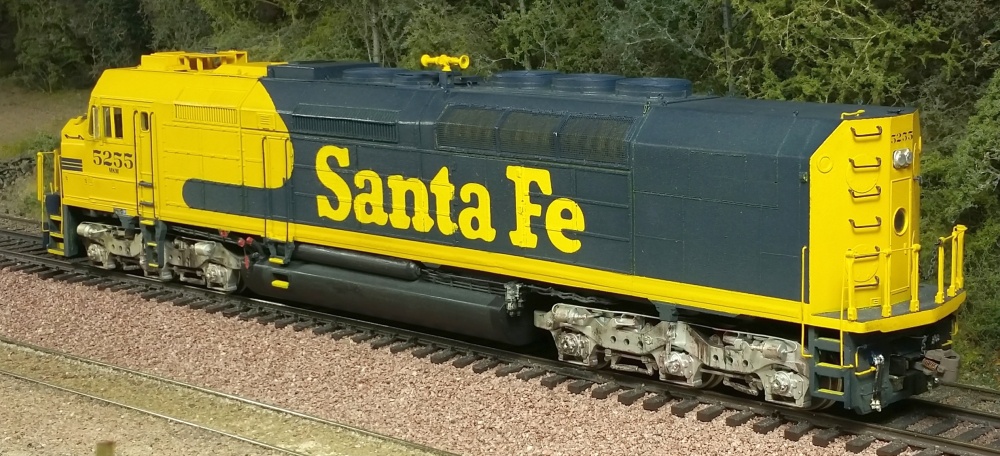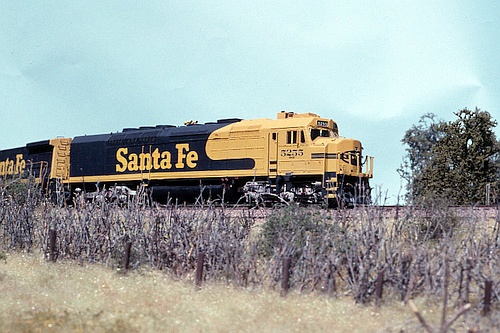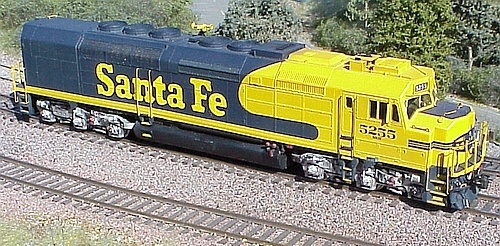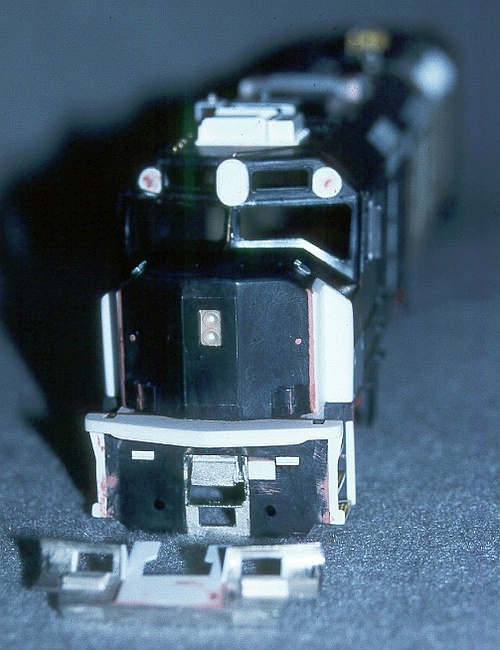 ATSF SDF40-2 5255

I kitbashed this model in 1996 starting from a "blue box" Athearn FP45. It features cast-resin side
panels thanks to my good friend Jim Lackner, who fabricated the masters and RTV molds for his
Amtrak SDP40F model. Parts of several other locomotive shells were also grafted in.

This model won 1st place, diesel category, at the 1997 SFRH&MS convention in Sacramento, CA.
My article describing how I built this model was published in the March 1999 Rail Model Journal.

Around 1999, I installed a Soundtraxx DCC decoder and speaker to operate this loco on
Free-mo modular layouts. Later I installed a Digitrax decoder to drive the can motor - the
Soundtraxx decoder now only generates the sound.

In 2018 Athearn released a ready-to-run Genesis version of this massive locomotive.
All I can say is, I had mine in 1996!

The notched nose was made from angle styrene grafted into the
FP45 nose. The FP45 nose point was flattened, a door outline
carved in, and headlight recessed. The upper headlight and
class lights were "blanked" per the prototype. Cannon & Co.
battery doors were spliced in aft of the nose notches. An Athearn
GP38-2 front pilot was extensively modified for the steps.

Above:
The cast-resin side panels are clearly visible (beige color). Life-Like F40PH grills (light gray) were grafted into the
FP45 shell (black). The radiators have styrene vertical braces and will receive fine-mesh screen so they're see-through.
A see-through Precision Scale Co. exhaust stack was fitted into a custom roof-top box (white). The rear section was
smoothed out and weld seams carved in to simulate where Santa Fe had removed the boiler equipment from these former
Amtrak passenger units. The rear platform, pilot, and steps came from the rear end of an Athearn SD40T-2 shell. The fans
were made from highway truck wheel hubs and styrene strip blades (diesel fan detail parts weren't available back in 1996).

Left & above:
ATSF SDF40-2 5255 has become a fixture at
Northern California Free-mo modular railroad setups, as it was one of
the first locos to be outfitted with DCC after the group formed in 1997.
Here the model is seen on my Glen Frazer Free-mo module.