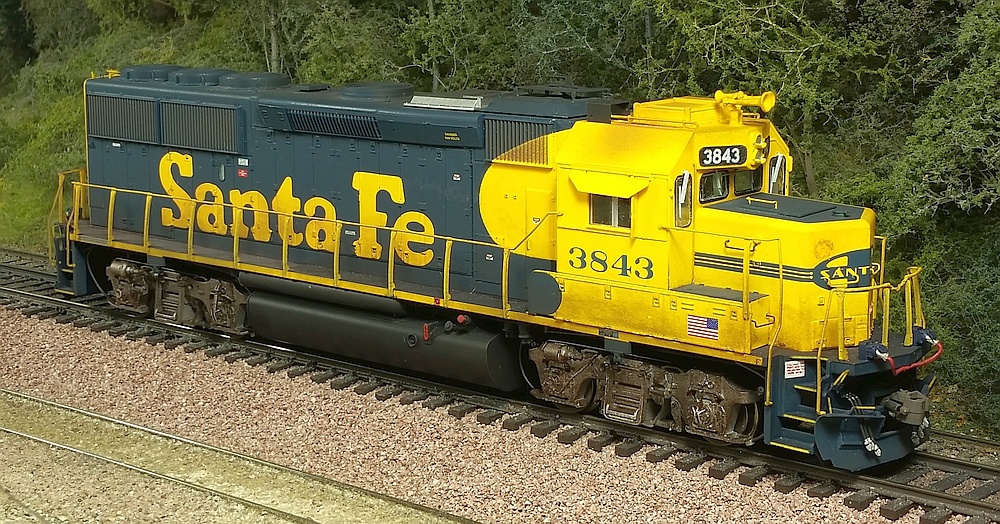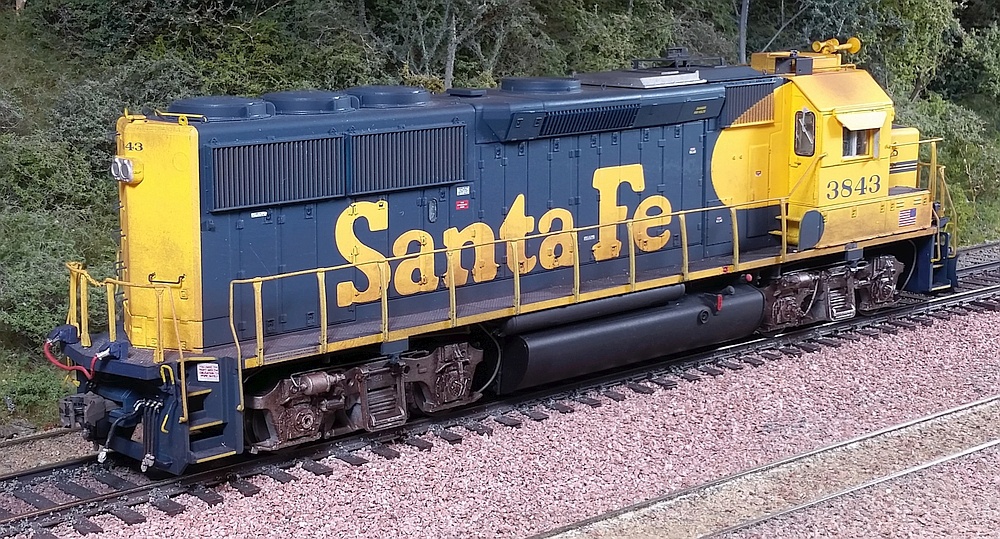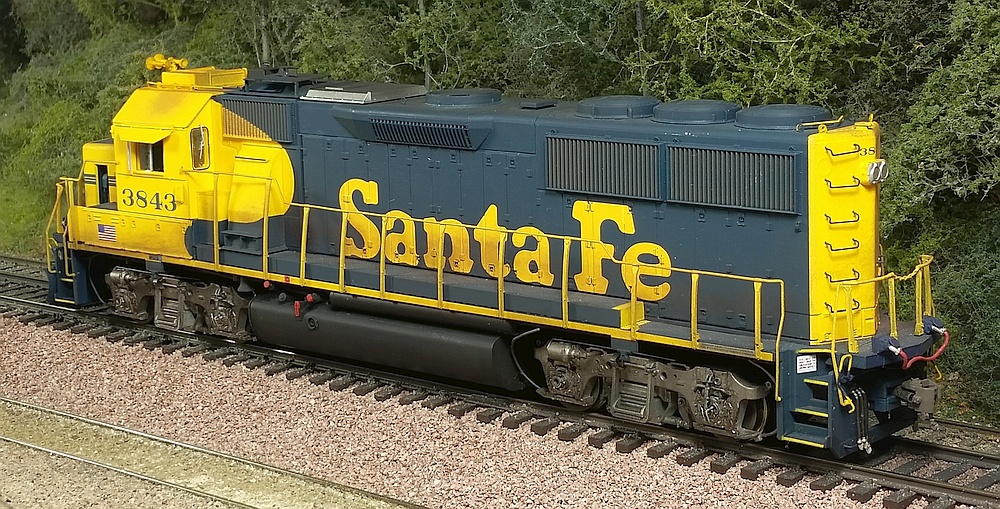 Below:
GP50 3843 in consist with other Santa Fe high-horsepower 4-axle locomotives. Photos taken on my Glen Frazer Free-mo module set.

ATSF GP50 3843

I upgraded the Athearn Genesis model with added details, decals, weathering, and DCC-controlled LED lighting

Below:
On both sides I installed Detail Associates cab air deflectors. Details West spare coupler knuckles were
applied to both right-side trucks. The road dust weathering is powdered chalks fixed with Testors Dullcote spray.

Below:
The left-side blower duct grab was painted blue. The sanding hoses are gray-jacketed solid-core
30-gauge electrical wire, which holds its shape once formed to the proper curve. I added Microscale decal
flags to the battery boxes on both sides - these showed ATSF's support for the troops in the first Gulf War.

Below:
From front to back, I removed Athearn's stock rotary beacon, filled the hole, and brush-painted
Polly-Scale Railbox Yellow to cover. I added a Plano Models EOT antenna platform with Details West
antenna, painted black per many prototype units, and fabricated the conduit from brass wire. The exhaust
weathering is a combination of airbrushing (a thinned mixture of black and brown) and powdered chalks.

Below:
Up front, I replaced Athearn's light bulbs with bright LEDs as I
installed the DCC decoder. I installed a drain line on the cab front using
brass wire. I sanded off the nose class lights and brush-painted
Polly-Scale Railbox Yellow to cover - the rust spots are powdered chalk
stippled into wet Dullcote. I added grabs to the top of the snow plow.

Below:
In the back, I added Detail Associates lift tabs on top the long
hood end. On both anticlimbers I added Details West MU cables and
receptacles. Both pilots received Detail Associates coupler lift bars,
and air hose retainer grabs were added on the rear pilot only.
I applied Microscale safety slogan decals to all four corner step wells.