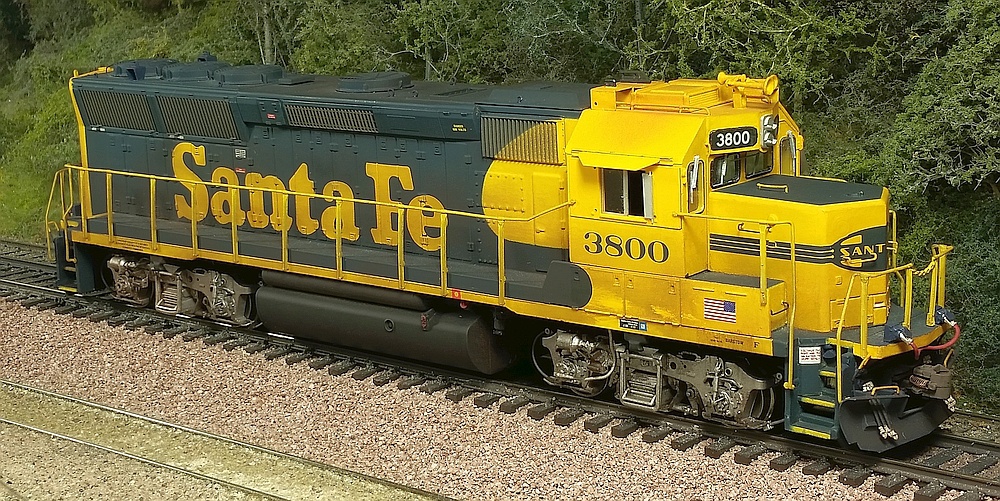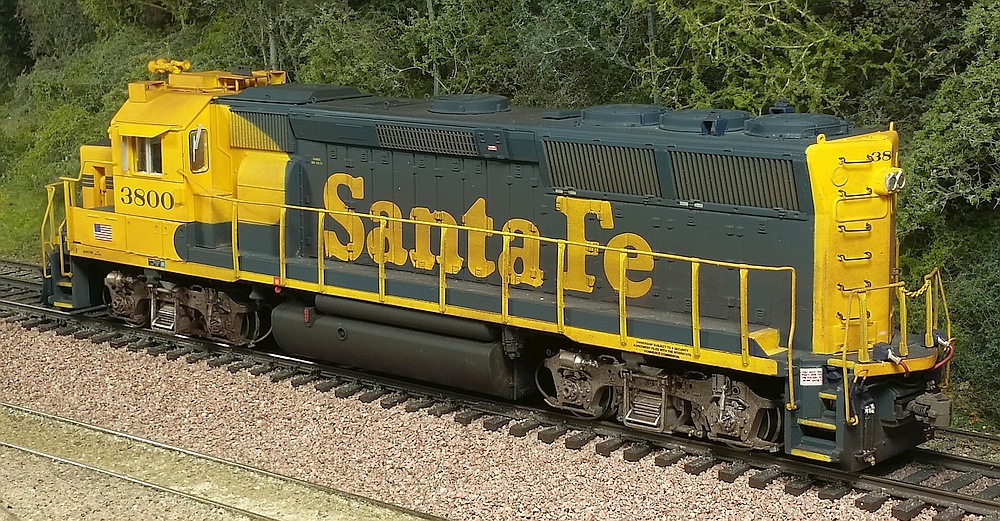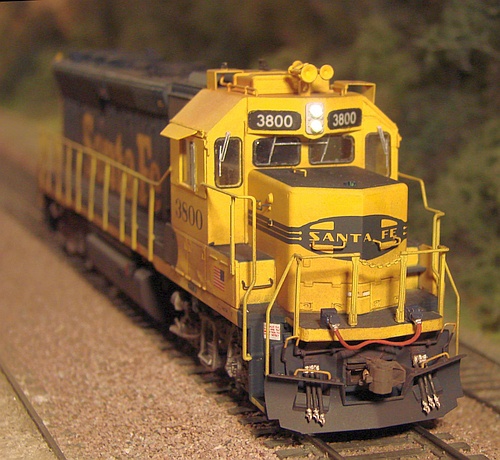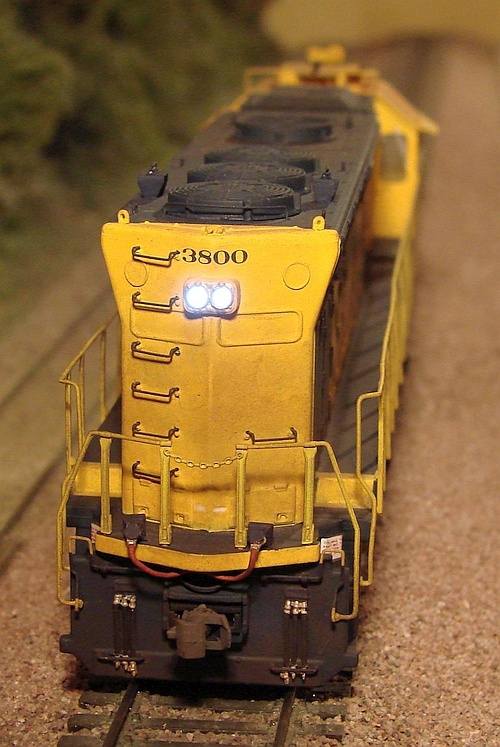 ATSF GP40X 3800

I upgraded the Athearn Ready-to-Roll model with added details, decals, weathering, and DCC-controlled LED lighting

Above:
I replaced Athearn's incandescent light bulbs with LEDs at the
same time I installed the DCC decoder. I added a drain line to cab
front using brass wire, and A-Line window wipers all around. On the
nose, I sanded off the class lights and brush-painted with Tru-Color
brand Sulfur Yellow. On the anti-climber I added Details West MU
cables and receptacles. The pilot received Detail Associates coupler
lift bars and grabs on the snow plow.

Right:
On the rear, I added Details West MU cables and
receptacles, as well as air hose retainer grabs. The lower
class lights were sanded off, BLMA upper blanks added,
and brush-painted Tru-Color Sulfur Yellow as was the
anticlimber. The couplers were brush-painted Roof Brown.

Below:
GP40X 3800 leading a consist of Santa Fe high-horsepower 4-axle
locomotives. All photos were taken on my Glen Frazer Free-mo module set.

I applied Microscale safety slogan decals to all four corner step wells.

Below:
Both sides received Detail Associates cab air deflectors. On the right side I added Details West speed recorder and spare coupler
knuckles on both trucks per Santa Fe practice. The sanding hoses are made from gray-jacketed solid-core 30-gauge electrical wire, which
holds its shape once formed to the proper curve. I used powered chalks for the road dust weathering, fixed in place with Testors Dullcote spray.

Below:
On the left side I installed Details West air filter set behind the fuel tank.
I also added small styrene triangles to the walkway step ends, both sides. This detail appears to have been unique to the GP40X.
Also on both sides I applied Microscale decal flags to the battery boxes - these showed ATSF's support for the troops in the first Gulf War.

Below:
From front to back, I removed Athearn's beacon and radio platform, filled the holes, and brush-painted Tru-Color brand
Sulfur Yellow, a close match to Athearn's paint color. I installed a Plano Models "blank" beacon platform and dry-brushed some
rusty spots simulating where Santa Fe had removed the beacon. Behind the air conditioner unit, I installed a Plano Models EOT
platform with Details West antenna on top. I scratch-built a styrene radio platform with Detail Associates antenna added. I installed
wire lift rings and Detail Associates plastic lift tabs on the roofline. Toward the rear next to the radiator fans, I installed Details West
EOT platforms and antennae to model the Locotrol antennae, a distinct spotting feature for Santa Fe GP40X 3800.