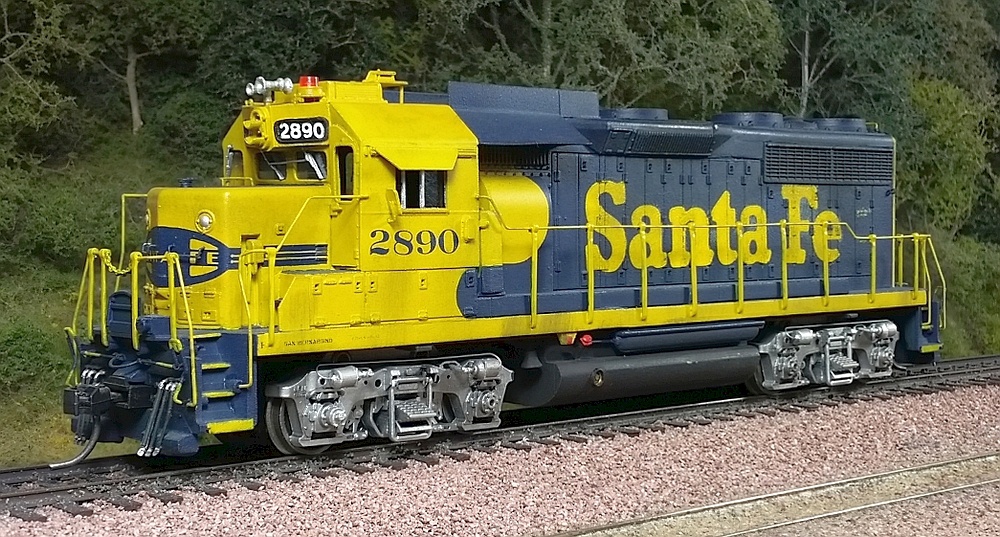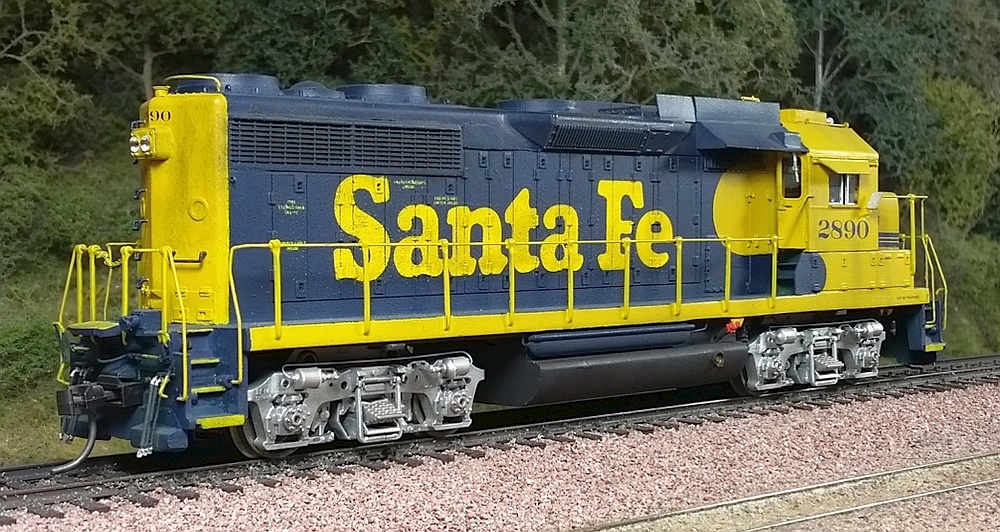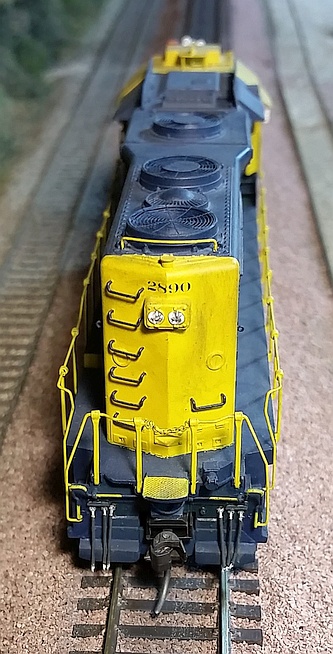 ATSF GP35u 2890

I built this model circa 1990 to get a scale-hood-width GP35, as all that was available at that
time was Athearn's "wide-body" blue box model. The construction diagram (bottom of page)
reveals the shell is a shortened Atlas SD35 nose and hood grafted onto an Athearn
GP35 walkway and pilots, plus a Cannon & Co. thin-wall cab kit. This model won first
place, diesel category, at the 1991 NMRA-PCR Coast Division meet in Richmond, CA.

I consider this a "legacy loco" - this model is not up to snuff for operating
on prototype-based Free-mo layouts. So it lives in my home display case.
Eventually I'll build a more accurate GP35u from the WalthersProto model.

I hand-sketched this construction diagram for display with the model to illustrate the amount of effort I put
into the project, which is often lost on NMRA contest judges who may not be familiar with diesel kitbashing.

This unit represents an early-1980's GP35u with the intake shields behind the cab and exhaust deflectors
on the top. I scratch-built these from sheet styrene. The trucks, fuel tank, and drive are Athearn.

Below:
I opened up the 48" fan housings and installed fans made from Athearn semi-truck wheel hubs and styrene-strip blades.
The grills are an etched brass product from Detail Associates. The 36" fan and the open exhaust stack are Precision Scale parts.

Left:
The front received Details West
and Detail Associates ATSF-specific
details typical of the early 1980's.
The cab-side mirrors were hand-made
from styrene and brass wire.

Right:
The rear received the usual
upgrades - drop grabs, drop steps,
coupler lift bar, MU receptacle and
air hoses. Campbell scale chain was
installed on the handrail openings.