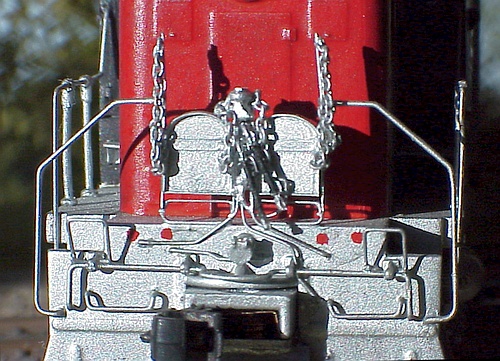 Trona Railway Baldwin AS616 53

In my younger years I "railfanned" extensively throughout California,
the western US, and elsewhere when the opportunity struck.

One of the more remote and obscure railroads I visited was the Trona Railway
in the Mojave Desert, back in the day when they used rare Baldwin locomotives.
One look at the massive, brute-force trucks on their AS616's was all I needed
for inspiration to model number 53, a former Southern Pacific unit.

Stewart had a good starting point for a model, and Microscale made a decal
sheet. There really was no excuse not to make the attempt. A second Stewart
shell was cut apart to splice its big, rectangular radiator grills into the short hood
to simulate the prototype's dynamic brake grills. Numerous other changes and
details were added to get a close replica of number 53.

This model won first place, Diesel category, at the
May 1991 NMRA-PCR meet in Sacramento, CA.
This model also won second place, Diesel category,
at the NMRA-PCR Coast Division meet.

I've sold this model as I now focus on Santa Fe's "Superfleet" era, 1989-1995.

Below:
Some notable details on my model:
The odd roundy/slopy exhaust stack was made from part of a ball-point pen.
The boxy fuel tank was narrowed, allowing fully-round air tanks to be installed.

Much effort was invested in trying to replicate the complex
multiple-unit (MU) gear on the ends. Baldwin MU detail parts
simply weren't available (and probably still aren't?). The wedgy
pilot plates and dual drop-steps are fabricated from styrene.
The bracketry and piping is brass strip and wire. The handrails
are hand-made, including threading them through drilled-out
plastic "T" stanchions. The boxy class-light housings were
carved out of the second Stewart shell and spliced in.

Below left:
Ah, the
simplicity of pre-DCC
model locomotive wiring!
Enough said.

Below:
The rear rooftop radiator
exhaust grills were "opened up",
ribbed styrene sheet installed to
simulate radiators, and open-mesh
walkway material added on top.

Right:
The prototype.
Photo by Bill Martin, 1977.