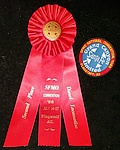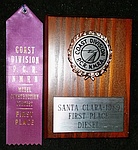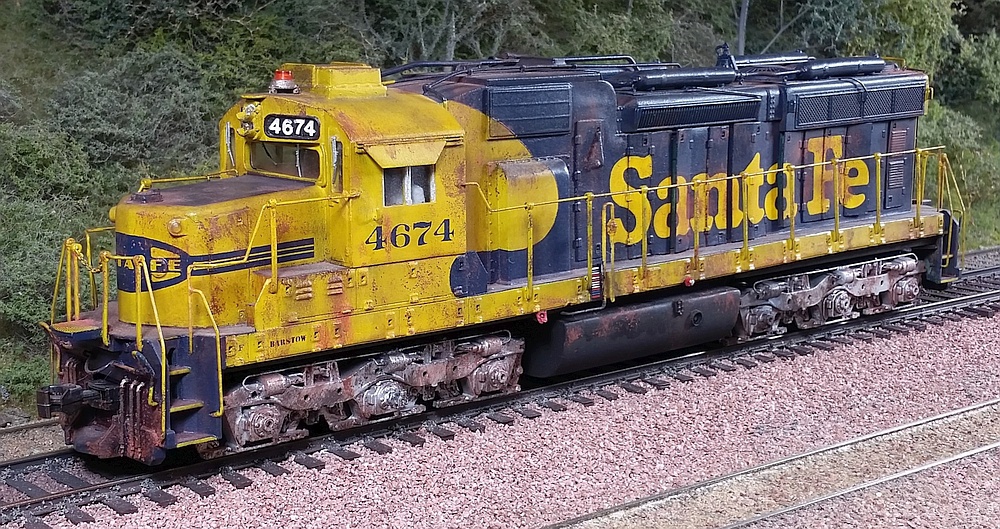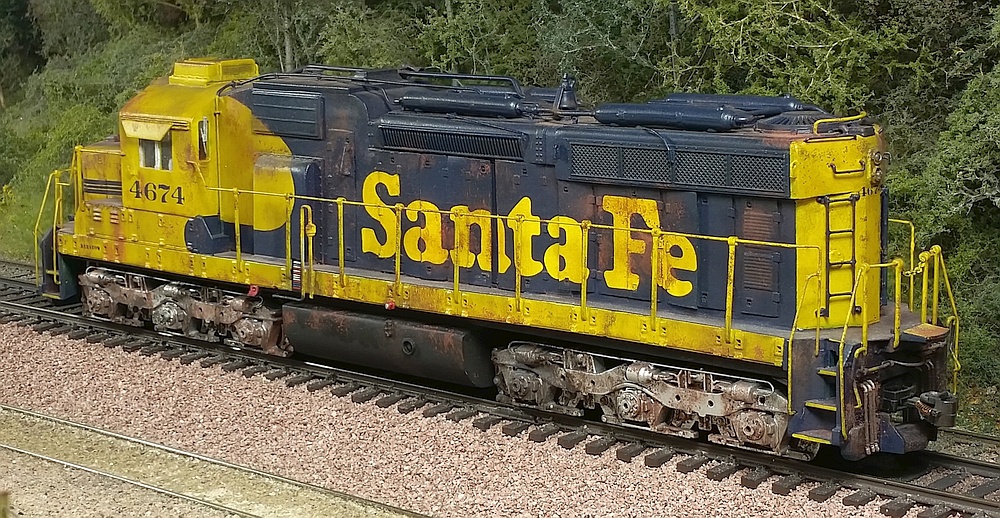 ATSF SD26 4674

I built this model circa 1987. The construction diagram (bottom
of page) reveals the shell is based on an Atlas SD24, but with
Athearn SD9 shell parts for the pilots, cab, and radiators. The
low nose and cab front came from a Tyco GP20 shell, while an
Athearn GP35 contributed the blower duct and air intake grills.
The long hood sides are thin sheet styrene overlaid on the
SD24 shell, with cutouts for open hood doors from
Cannon & Co. The long hood top is modified with scratch-built
parts to get that oddball SD26 "hump". The roof-top air
reservoirs are shortened Detail Associates parts. Open fan
housings came from Precision Scale. The drive and trucks are
from an Athearn SD9 with a reworked fuel tank.

This model won several awards, including the West Rail
Certificate of Merit for Prototype Authenticity in Modeling
at the 1988 SFRH&MS national convention in Flagstaff, AZ.
At that same convention it won second place, diesel category.
It went on to win first place, diesel category, at the 1989
NMRA-PCR Coast Division meet in Santa Clara, CA,
followed by first place, diesel category, at the 1990
NMRA Pacific Coast Region meet in Oakland, CA.

After its award-winning days, I attempted to weather 4674
as seen here on this page to capture the grungy look of
Santa Fe's SD26 fleet in its last days. I'm not happy with
the result, and am considering either re-weathering this
model or starting fresh with a new Atlas SD26.

Above:
These construction photos show the complexity of this kitbash.
Surprisingly, Atlas produced a ready-to-run SD26 some twenty years after I built mine.

Below:
I hand-sketched this construction diagram for display with the model to illustrate the amount of effort I
put into the project, which is often lost on NMRA contest judges who may not be familiar with diesel kitbashing.